Ferns liven things up. Native to the South Pacific, the Tahiti Paw Fern is vivacious, tropical and glamourous. But it happens to the best of us . A yellow leaf here and saggy stem there. We've got you.


Half and half
It likes a shady spot in a bright room. It doesn't like the direct rays of the sun for many hours. It will tolerate lower light conditions. While low light won't kill your Tahiti Paw fern it may stunt its growth. If it does not seem to grow at all, chances are it's not getting enough sunlight and you should move it to a brighter spot.

A semi-shady spot without direct sunlight would be ideal. Great on a coffee table or on the floor.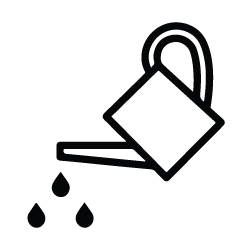 It likes its soil consistently moist
Consistent moisture is key. Water it deeply twice a week and lightly on other days ONLY IF the top layer of soil has dried out.

The best way to water it is to give it a generous watering until water runs out of the drainage hole of the pot. Discard any drained water because the plant doesn't like wet feet, and this can cause root rot. Poke your finger into the soil to test its moisture level. If the top soil is dry water it lightly to keep it moist. The aim is to keep the lower level of soil moist but not soggy.It's a bit of experimenting to get to the right balance but don't worry, you'll get it after a bit of trial and error.

Spa day, once a month.
Spa day, once a month. A little pruning and cleaning up rejuvenates your fern and a spoonful of vitamins keeps it healthy. We'll book your fern an appointment and send you its regular spa ritual.

It loves humidity.
Mist its leaves as an everyday treat – especially in the summer.
Common questions
Why isn't my Tahiti Paw Fern growing new leaves?
It probably needs more sunlight. Move it to a brighter spot but make sure it's not in direct sunlight for too many hours.
Why are my Tahiti Paw Fern's leaves burnt?
Direct sunlight will burn its leaves. In its natural habitat it, it grows on the jungle floor beneath all the tall palms and big trees. Reduce direct sunlight without blocking it out completely. Tricky but you'll get it with a little experimentation.
Why are my Tahiti Paw Ferns' leaves drooping?
It needs water. Drooping leaves are a tell tale sign its thirsty. Try watering it a little more frequently.
Why aren't my Tahiti Paw Ferns' leaves nice and big anymore?
In low light, new fronds will appear with fewer fingers on the "paw." It needs more sunlight to grow properly.